Re: Strip: Building Bjorn Thomasson's Frej *PIC*
More to come....eventually.... ;-)
I spent quite a bit of time on the skeg/skeel, but didn't want to post details or pics until I was sure it would actually work - i.e. move when the control slider was pushed!
As I mentioned, I got skeel info and pics from Reg Lake- the design is his; any problems with execution are mine!
(I eventually bought a complete skeel assembly from Reg, but I'd pretty well finished 'my version' by the time I got my hands on 'the real thing'.
The unique feature of the Lake design is that the cable enters the side of the box and the skeg has a shallow channel to support the cable. This means that the cable is supported at all times and there is no 'free unsupported cable' which can kink if the skeg is pushed upward.
From inside the hull: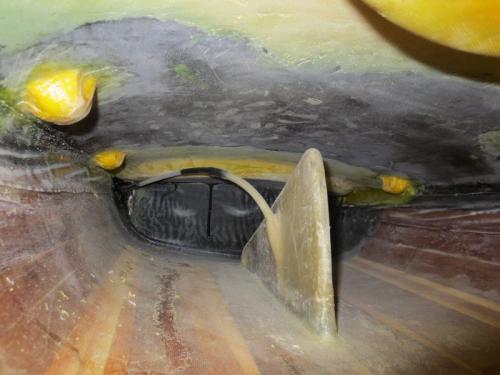 I should clean up the sanding dust before snapping pics!
Messages In This Thread
Strip: Building Bjorn Thomasson's Frej *PIC*
JohnAbercrombie -- 3/31/2013, 9:53 pm

Re: Strip: Building Bjorn Thomasson's Frej
JohnAbercrombie -- 3/31/2013, 10:16 pm

Re: Strip: Building Bjorn Thomasson's Frej *PIC*
JohnAbercrombie -- 4/1/2013, 10:34 pm

Re: Strip: Building Bjorn Thomasson's Frej
Ralph Merriman -- 4/4/2013, 2:55 pm

Re: Strip: Building Bjorn Thomasson's Frej
JohnAbercrombie -- 4/4/2013, 4:11 pm

Re: Strip: Building Bjorn Thomasson's Frej
JohnAbercrombie -- 4/8/2013, 12:33 pm

Re: Strip: Building Bjorn Thomasson's Frej *PIC*
JohnAbercrombie -- 4/8/2013, 12:46 pm
Re: Strip: Building Bjorn Thomasson's Frej
Erik Jensen -- 4/8/2013, 9:58 pm

Re: Strip: Building Bjorn Thomasson's Frej
JohnAbercrombie -- 4/8/2013, 10:38 pm

Re: Strip: Building Bjorn Thomasson's Frej
Erik Jensen -- 4/8/2013, 11:41 pm

Re: Strip: Building Bjorn Thomasson's Frej
Bill Hamm -- 4/9/2013, 2:32 am

Re: Strip: Building Bjorn Thomasson's Frej
JohnAbercrombie -- 4/9/2013, 12:32 pm

Re: Strip: Building Bjorn Thomasson's Frej
Bill Hamm -- 4/10/2013, 12:46 am

Re: Strip: Building Bjorn Thomasson's Frej *PIC*
JohnAbercrombie -- 4/20/2013, 12:03 pm

Re: Strip: Building Bjorn Thomasson's Frej *PIC*
JohnAbercrombie -- 4/20/2013, 12:13 pm

Re: Strip: Building Bjorn Thomasson's Frej *PIC*
JohnAbercrombie -- 4/20/2013, 12:18 pm

Re: Strip: Building Bjorn Thomasson's Frej
JohnAbercrombie -- 4/20/2013, 12:22 pm

Re: Strip: Building Bjorn Thomasson's Frej *PIC*
JohnAbercrombie -- 6/17/2013, 12:08 pm

Re: Strip: Building Bjorn Thomasson's Frej *PIC*
JohnAbercrombie -- 6/17/2013, 12:12 pm

Re: Strip: Building Bjorn Thomasson's Frej *PIC*
JohnAbercrombie -- 6/17/2013, 12:17 pm

Re: Strip: Building Bjorn Thomasson's Frej *PIC*
JohnAbercrombie -- 6/17/2013, 12:21 pm

Re: Strip: Building Bjorn Thomasson's Frej *PIC*
JohnAbercrombie -- 6/17/2013, 12:24 pm

Re: Strip: Building Bjorn Thomasson's Frej
Bill Hamm -- 6/18/2013, 1:24 am
Re: Strip: Building Bjorn Thomasson's Frej
Jay Babina -- 6/18/2013, 3:40 pm
Re: Strip: Building Bjorn Thomasson's Frej *PIC*
JohnAbercrombie -- 6/18/2013, 9:20 pm

Re: Strip: Building Bjorn Thomasson's Frej
JohnAbercrombie -- 6/18/2013, 9:41 pm

Re: Strip: Building Bjorn Thomasson's Frej
JohnAbercrombie -- 6/18/2013, 9:50 pm

Re: Strip: Building Bjorn Thomasson's Frej
JohnAbercrombie -- 6/18/2013, 9:54 pm

Re: Strip: Building Bjorn Thomasson's Frej
Björn Thomasson -- 6/19/2013, 5:20 pm

Re: Strip: Building Bjorn Thomasson's Frej *PIC*
Paul Davies -- 6/19/2013, 8:21 pm
Re: Strip: Building Bjorn Thomasson's Frej *PIC*
JohnAbercrombie -- 6/20/2013, 3:00 pm

Re: Strip: Building Bjorn Thomasson's Frej
Björn Thomasson -- 6/20/2013, 3:53 pm
Re: Strip: Building Bjorn Thomasson's Frej *PIC*
JohnAbercrombie -- 7/2/2013, 1:21 pm

Re: Strip: Building Bjorn Thomasson's Frej *PIC*
JohnAbercrombie -- 7/2/2013, 1:25 pm

Re: Strip: Building Bjorn Thomasson's Frej
Don Goss -- 7/6/2013, 11:29 pm

Re: Strip: Building Bjorn Thomasson's Frej
Sean Dawe -- 4/23/2013, 9:12 am