Re: Strip: Building Bjorn Thomasson's Frej *PIC*
Cutting out the cockpit opening makes the deck more flexible; adding the coaming stiffens it.
To make sure that I was not introducing unwanted changes into the deck shape, I taped the deck and hull together while I formed the coaming.
The cockpit and coaming shape is similar to the NDK style. Construction is standard: Sacrificial foam mold attached to deck with glass and carbon hand-laid over the mold. The adventure of removing the mold is easier with a bit of acetone to dissolve the foam.
The coaming was laid up oversize and will be trimmed to width.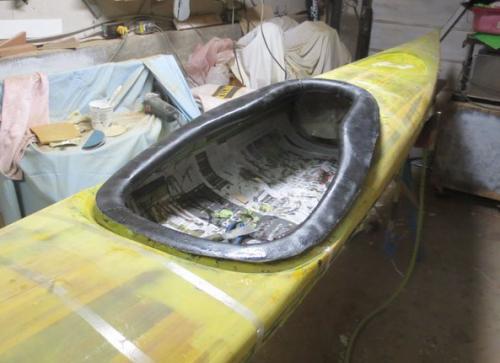 Messages In This Thread
Strip: Building Bjorn Thomasson's Frej *PIC*
JohnAbercrombie -- 3/31/2013, 9:53 pm

Re: Strip: Building Bjorn Thomasson's Frej
JohnAbercrombie -- 3/31/2013, 10:16 pm

Re: Strip: Building Bjorn Thomasson's Frej *PIC*
JohnAbercrombie -- 4/1/2013, 10:34 pm

Re: Strip: Building Bjorn Thomasson's Frej
Ralph Merriman -- 4/4/2013, 2:55 pm

Re: Strip: Building Bjorn Thomasson's Frej
JohnAbercrombie -- 4/4/2013, 4:11 pm

Re: Strip: Building Bjorn Thomasson's Frej
JohnAbercrombie -- 4/8/2013, 12:33 pm

Re: Strip: Building Bjorn Thomasson's Frej *PIC*
JohnAbercrombie -- 4/8/2013, 12:46 pm
Re: Strip: Building Bjorn Thomasson's Frej
Erik Jensen -- 4/8/2013, 9:58 pm

Re: Strip: Building Bjorn Thomasson's Frej
JohnAbercrombie -- 4/8/2013, 10:38 pm

Re: Strip: Building Bjorn Thomasson's Frej
Erik Jensen -- 4/8/2013, 11:41 pm

Re: Strip: Building Bjorn Thomasson's Frej
Bill Hamm -- 4/9/2013, 2:32 am

Re: Strip: Building Bjorn Thomasson's Frej
JohnAbercrombie -- 4/9/2013, 12:32 pm

Re: Strip: Building Bjorn Thomasson's Frej
Bill Hamm -- 4/10/2013, 12:46 am

Re: Strip: Building Bjorn Thomasson's Frej *PIC*
JohnAbercrombie -- 4/20/2013, 12:03 pm

Re: Strip: Building Bjorn Thomasson's Frej *PIC*
JohnAbercrombie -- 4/20/2013, 12:13 pm

Re: Strip: Building Bjorn Thomasson's Frej *PIC*
JohnAbercrombie -- 4/20/2013, 12:18 pm

Re: Strip: Building Bjorn Thomasson's Frej
JohnAbercrombie -- 4/20/2013, 12:22 pm

Re: Strip: Building Bjorn Thomasson's Frej *PIC*
JohnAbercrombie -- 6/17/2013, 12:08 pm

Re: Strip: Building Bjorn Thomasson's Frej *PIC*
JohnAbercrombie -- 6/17/2013, 12:12 pm

Re: Strip: Building Bjorn Thomasson's Frej *PIC*
JohnAbercrombie -- 6/17/2013, 12:17 pm

Re: Strip: Building Bjorn Thomasson's Frej *PIC*
JohnAbercrombie -- 6/17/2013, 12:21 pm

Re: Strip: Building Bjorn Thomasson's Frej *PIC*
JohnAbercrombie -- 6/17/2013, 12:24 pm

Re: Strip: Building Bjorn Thomasson's Frej
Bill Hamm -- 6/18/2013, 1:24 am
Re: Strip: Building Bjorn Thomasson's Frej
Jay Babina -- 6/18/2013, 3:40 pm
Re: Strip: Building Bjorn Thomasson's Frej *PIC*
JohnAbercrombie -- 6/18/2013, 9:20 pm

Re: Strip: Building Bjorn Thomasson's Frej
JohnAbercrombie -- 6/18/2013, 9:41 pm

Re: Strip: Building Bjorn Thomasson's Frej
JohnAbercrombie -- 6/18/2013, 9:50 pm

Re: Strip: Building Bjorn Thomasson's Frej
JohnAbercrombie -- 6/18/2013, 9:54 pm

Re: Strip: Building Bjorn Thomasson's Frej
Björn Thomasson -- 6/19/2013, 5:20 pm

Re: Strip: Building Bjorn Thomasson's Frej *PIC*
Paul Davies -- 6/19/2013, 8:21 pm
Re: Strip: Building Bjorn Thomasson's Frej *PIC*
JohnAbercrombie -- 6/20/2013, 3:00 pm

Re: Strip: Building Bjorn Thomasson's Frej
Björn Thomasson -- 6/20/2013, 3:53 pm
Re: Strip: Building Bjorn Thomasson's Frej *PIC*
JohnAbercrombie -- 7/2/2013, 1:21 pm

Re: Strip: Building Bjorn Thomasson's Frej *PIC*
JohnAbercrombie -- 7/2/2013, 1:25 pm

Re: Strip: Building Bjorn Thomasson's Frej
Don Goss -- 7/6/2013, 11:29 pm

Re: Strip: Building Bjorn Thomasson's Frej
Sean Dawe -- 4/23/2013, 9:12 am