Strip: Building Bjorn Thomasson's Frej *PIC*
I thought I'd post a few details about my current project: Frej - Designed by Bjorn Thomasson
http://www.thomassondesign.com/en/catalog/my-kayaks/frej
The plans arrived quickly from Sweden, and I've had excellent support from Mr Thomasson, with a couple of my questions answered very promptly (in impeccable English - quite humbling) in detail. Recommended.
I've been doing a few hours each day (hey, we paddle here at this time of year!), and I'm at the end of Week#1 .
I use a pretty simple setup style: 2x6 'T' strongback supported on a couple of sets of sawhorse brackets. I use a string and spray paint to set the center line.
The plans use the standard nautical style of 12 stations, so the form spacing is a bit wider (40cm or so, depending on what length you choose for the boat) than the 'one form every foot' style. If you like to use thin strips you'll have to be quite careful to keep the strips fair between stations.
Since 'everybody is doing it', I tried gluing a photocopy to the form material (laminated pine shelf stock) but wasn't impressed that it was better than the 'old way' so I switched back to tracing half-patterns in card and drawing around the pattern to mark the form stock.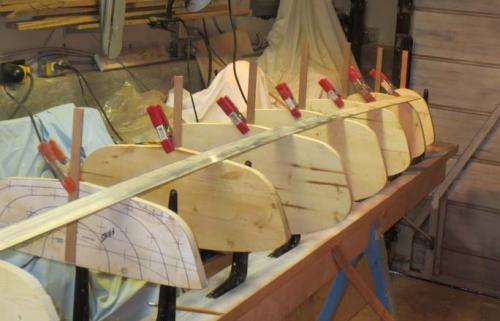 I laminated the stems from 'bending plywood' strips - the result is nice and light, with zero springback. It's also easy to carve the bending ply stems (with a gouge) if necessary to clean up the ends of the hull interior.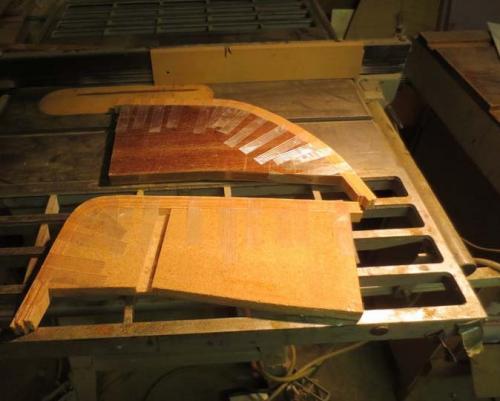 The boat will be painted, so that makes a difference - I could use mis-matched strips, and colored filler and resin. Having the color start right at the wood (& wood filler) stage means that scratches will not be so obvious.
A painted hull tends to show un-fair spots - there's no wood detail to distract the eye - so I was pretty careful to get the hull quite fair and smooth before glassing (2 x 4oz glass, with extra layers at the stems)

The hull is going to be black or dark blue, so I added black pigment (black iron oxide) to the epoxy when I glassed.
Messages In This Thread
Strip: Building Bjorn Thomasson's Frej *PIC*
JohnAbercrombie -- 3/31/2013, 9:53 pm

Re: Strip: Building Bjorn Thomasson's Frej
JohnAbercrombie -- 3/31/2013, 10:16 pm

Re: Strip: Building Bjorn Thomasson's Frej *PIC*
JohnAbercrombie -- 4/1/2013, 10:34 pm

Re: Strip: Building Bjorn Thomasson's Frej
Ralph Merriman -- 4/4/2013, 2:55 pm

Re: Strip: Building Bjorn Thomasson's Frej
JohnAbercrombie -- 4/4/2013, 4:11 pm

Re: Strip: Building Bjorn Thomasson's Frej
JohnAbercrombie -- 4/8/2013, 12:33 pm

Re: Strip: Building Bjorn Thomasson's Frej *PIC*
JohnAbercrombie -- 4/8/2013, 12:46 pm
Re: Strip: Building Bjorn Thomasson's Frej
Erik Jensen -- 4/8/2013, 9:58 pm

Re: Strip: Building Bjorn Thomasson's Frej
JohnAbercrombie -- 4/8/2013, 10:38 pm

Re: Strip: Building Bjorn Thomasson's Frej
Erik Jensen -- 4/8/2013, 11:41 pm

Re: Strip: Building Bjorn Thomasson's Frej
Bill Hamm -- 4/9/2013, 2:32 am

Re: Strip: Building Bjorn Thomasson's Frej
JohnAbercrombie -- 4/9/2013, 12:32 pm

Re: Strip: Building Bjorn Thomasson's Frej
Bill Hamm -- 4/10/2013, 12:46 am

Re: Strip: Building Bjorn Thomasson's Frej *PIC*
JohnAbercrombie -- 4/20/2013, 12:03 pm

Re: Strip: Building Bjorn Thomasson's Frej *PIC*
JohnAbercrombie -- 4/20/2013, 12:13 pm

Re: Strip: Building Bjorn Thomasson's Frej *PIC*
JohnAbercrombie -- 4/20/2013, 12:18 pm

Re: Strip: Building Bjorn Thomasson's Frej
JohnAbercrombie -- 4/20/2013, 12:22 pm

Re: Strip: Building Bjorn Thomasson's Frej *PIC*
JohnAbercrombie -- 6/17/2013, 12:08 pm

Re: Strip: Building Bjorn Thomasson's Frej *PIC*
JohnAbercrombie -- 6/17/2013, 12:12 pm

Re: Strip: Building Bjorn Thomasson's Frej *PIC*
JohnAbercrombie -- 6/17/2013, 12:17 pm

Re: Strip: Building Bjorn Thomasson's Frej *PIC*
JohnAbercrombie -- 6/17/2013, 12:21 pm

Re: Strip: Building Bjorn Thomasson's Frej *PIC*
JohnAbercrombie -- 6/17/2013, 12:24 pm

Re: Strip: Building Bjorn Thomasson's Frej
Bill Hamm -- 6/18/2013, 1:24 am
Re: Strip: Building Bjorn Thomasson's Frej
Jay Babina -- 6/18/2013, 3:40 pm
Re: Strip: Building Bjorn Thomasson's Frej *PIC*
JohnAbercrombie -- 6/18/2013, 9:20 pm

Re: Strip: Building Bjorn Thomasson's Frej
JohnAbercrombie -- 6/18/2013, 9:41 pm

Re: Strip: Building Bjorn Thomasson's Frej
JohnAbercrombie -- 6/18/2013, 9:50 pm

Re: Strip: Building Bjorn Thomasson's Frej
JohnAbercrombie -- 6/18/2013, 9:54 pm

Re: Strip: Building Bjorn Thomasson's Frej
Björn Thomasson -- 6/19/2013, 5:20 pm

Re: Strip: Building Bjorn Thomasson's Frej *PIC*
Paul Davies -- 6/19/2013, 8:21 pm
Re: Strip: Building Bjorn Thomasson's Frej *PIC*
JohnAbercrombie -- 6/20/2013, 3:00 pm

Re: Strip: Building Bjorn Thomasson's Frej
Björn Thomasson -- 6/20/2013, 3:53 pm
Re: Strip: Building Bjorn Thomasson's Frej *PIC*
JohnAbercrombie -- 7/2/2013, 1:21 pm

Re: Strip: Building Bjorn Thomasson's Frej *PIC*
JohnAbercrombie -- 7/2/2013, 1:25 pm

Re: Strip: Building Bjorn Thomasson's Frej
Don Goss -- 7/6/2013, 11:29 pm

Re: Strip: Building Bjorn Thomasson's Frej
Sean Dawe -- 4/23/2013, 9:12 am