Re: Strip: Building Bjorn Thomasson's Frej *PIC*
Making the control box was straightforward - foam mold, glass.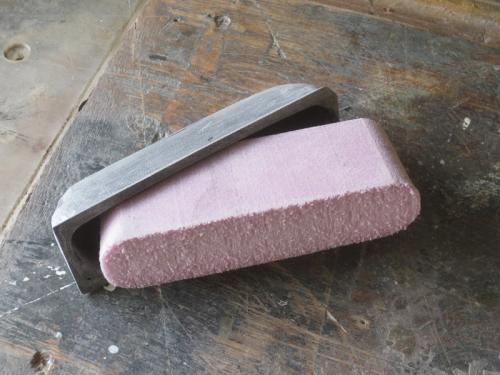 The slider moves the cable, which is inside a carbon tube (with a cutout to allow the setscrew to engage the cable).

The 'slider tube', in turn, moves inside supporting tubes forward and aft of the control box.
Goodwinds is an excellent source of carbon tubes of many sizes- handy when you are trying to set up something like this.
Messages In This Thread
Strip: Building Bjorn Thomasson's Frej *PIC*
JohnAbercrombie -- 3/31/2013, 9:53 pm

Re: Strip: Building Bjorn Thomasson's Frej
JohnAbercrombie -- 3/31/2013, 10:16 pm

Re: Strip: Building Bjorn Thomasson's Frej *PIC*
JohnAbercrombie -- 4/1/2013, 10:34 pm

Re: Strip: Building Bjorn Thomasson's Frej
Ralph Merriman -- 4/4/2013, 2:55 pm

Re: Strip: Building Bjorn Thomasson's Frej
JohnAbercrombie -- 4/4/2013, 4:11 pm

Re: Strip: Building Bjorn Thomasson's Frej
JohnAbercrombie -- 4/8/2013, 12:33 pm

Re: Strip: Building Bjorn Thomasson's Frej *PIC*
JohnAbercrombie -- 4/8/2013, 12:46 pm
Re: Strip: Building Bjorn Thomasson's Frej
Erik Jensen -- 4/8/2013, 9:58 pm

Re: Strip: Building Bjorn Thomasson's Frej
JohnAbercrombie -- 4/8/2013, 10:38 pm

Re: Strip: Building Bjorn Thomasson's Frej
Erik Jensen -- 4/8/2013, 11:41 pm

Re: Strip: Building Bjorn Thomasson's Frej
Bill Hamm -- 4/9/2013, 2:32 am

Re: Strip: Building Bjorn Thomasson's Frej
JohnAbercrombie -- 4/9/2013, 12:32 pm

Re: Strip: Building Bjorn Thomasson's Frej
Bill Hamm -- 4/10/2013, 12:46 am

Re: Strip: Building Bjorn Thomasson's Frej *PIC*
JohnAbercrombie -- 4/20/2013, 12:03 pm

Re: Strip: Building Bjorn Thomasson's Frej *PIC*
JohnAbercrombie -- 4/20/2013, 12:13 pm

Re: Strip: Building Bjorn Thomasson's Frej *PIC*
JohnAbercrombie -- 4/20/2013, 12:18 pm

Re: Strip: Building Bjorn Thomasson's Frej
JohnAbercrombie -- 4/20/2013, 12:22 pm

Re: Strip: Building Bjorn Thomasson's Frej *PIC*
JohnAbercrombie -- 6/17/2013, 12:08 pm

Re: Strip: Building Bjorn Thomasson's Frej *PIC*
JohnAbercrombie -- 6/17/2013, 12:12 pm

Re: Strip: Building Bjorn Thomasson's Frej *PIC*
JohnAbercrombie -- 6/17/2013, 12:17 pm

Re: Strip: Building Bjorn Thomasson's Frej *PIC*
JohnAbercrombie -- 6/17/2013, 12:21 pm

Re: Strip: Building Bjorn Thomasson's Frej *PIC*
JohnAbercrombie -- 6/17/2013, 12:24 pm

Re: Strip: Building Bjorn Thomasson's Frej
Bill Hamm -- 6/18/2013, 1:24 am
Re: Strip: Building Bjorn Thomasson's Frej
Jay Babina -- 6/18/2013, 3:40 pm
Re: Strip: Building Bjorn Thomasson's Frej *PIC*
JohnAbercrombie -- 6/18/2013, 9:20 pm

Re: Strip: Building Bjorn Thomasson's Frej
JohnAbercrombie -- 6/18/2013, 9:41 pm

Re: Strip: Building Bjorn Thomasson's Frej
JohnAbercrombie -- 6/18/2013, 9:50 pm

Re: Strip: Building Bjorn Thomasson's Frej
JohnAbercrombie -- 6/18/2013, 9:54 pm

Re: Strip: Building Bjorn Thomasson's Frej
Björn Thomasson -- 6/19/2013, 5:20 pm

Re: Strip: Building Bjorn Thomasson's Frej *PIC*
Paul Davies -- 6/19/2013, 8:21 pm
Re: Strip: Building Bjorn Thomasson's Frej *PIC*
JohnAbercrombie -- 6/20/2013, 3:00 pm

Re: Strip: Building Bjorn Thomasson's Frej
Björn Thomasson -- 6/20/2013, 3:53 pm
Re: Strip: Building Bjorn Thomasson's Frej *PIC*
JohnAbercrombie -- 7/2/2013, 1:21 pm

Re: Strip: Building Bjorn Thomasson's Frej *PIC*
JohnAbercrombie -- 7/2/2013, 1:25 pm

Re: Strip: Building Bjorn Thomasson's Frej
Don Goss -- 7/6/2013, 11:29 pm

Re: Strip: Building Bjorn Thomasson's Frej
Sean Dawe -- 4/23/2013, 9:12 am