Re: Strip: Building Bjorn Thomasson's Frej *PIC*
John, congrats on a beautiful kayak (I almost wrote boat ;-) and I am glad you like the way it behaves.

But a comment – you write:"Cockpit- Bjorn Thomasson specs a small cockpit, and the seat is located 'right back' in the cockpit. (My back is about 2-3" from the cockpit rim, vs 4-5" in my other boats. I can feel the difference in the neoprene sprayskirt.)"
The suggested seat on the plans is an integrated bulkhead/seat structure (which has become my absolute favorite configuration, used in all my recent kayaks), where the aft edge of the seat part is indicated to be 8 cm (a little more than 3") from the rim. With the low aft deck/rim it means that the geometry when leaning back on the aft deck is approx the same as in the usual brit boat with their higher deck and 4-5" distance. But moving the seat an inch or so forward to match brit style spraydecks would have very little effect on the longitudinal balance and behavior (given a rather high Cp).
Bjorn-
Thanks for the kind words.
I was not very clear describing the situation with the seat- it depends on what is meant by the 'aft edge of the seat', I suppose.
Like the seat in the Frej plan, the NDK (Romany) seat has a sloping back.

From the plane of the seat back to the coaming rim on the Romany (if the Romany had its deck lowered to 7" off the hull, like the Frej) it's about 3 inches.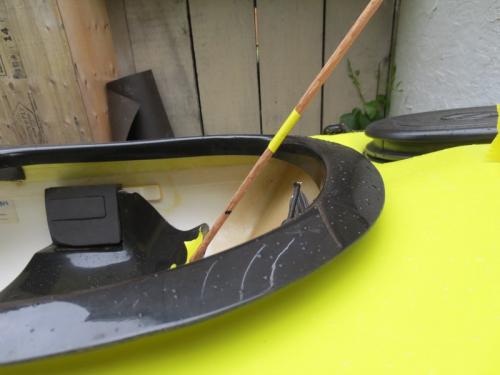 On the Frej plan, the plane of the seat back intersects the coaming rim.

So the difference in seat position (relative to the coaming) between the two boats is 3".
This seems like a lot. Moving the seat is an easy thing to do, but I'm not sure exactly where to put it!
Advice?
;-)
I would like to get rid of the 'thigh hooks', or cut them down, and moving the seat forward would allow this.

Messages In This Thread
Strip: Building Bjorn Thomasson's Frej *PIC*
JohnAbercrombie -- 3/31/2013, 9:53 pm

Re: Strip: Building Bjorn Thomasson's Frej
JohnAbercrombie -- 3/31/2013, 10:16 pm

Re: Strip: Building Bjorn Thomasson's Frej *PIC*
JohnAbercrombie -- 4/1/2013, 10:34 pm

Re: Strip: Building Bjorn Thomasson's Frej
Ralph Merriman -- 4/4/2013, 2:55 pm

Re: Strip: Building Bjorn Thomasson's Frej
JohnAbercrombie -- 4/4/2013, 4:11 pm

Re: Strip: Building Bjorn Thomasson's Frej
JohnAbercrombie -- 4/8/2013, 12:33 pm

Re: Strip: Building Bjorn Thomasson's Frej *PIC*
JohnAbercrombie -- 4/8/2013, 12:46 pm
Re: Strip: Building Bjorn Thomasson's Frej
Erik Jensen -- 4/8/2013, 9:58 pm

Re: Strip: Building Bjorn Thomasson's Frej
JohnAbercrombie -- 4/8/2013, 10:38 pm

Re: Strip: Building Bjorn Thomasson's Frej
Erik Jensen -- 4/8/2013, 11:41 pm

Re: Strip: Building Bjorn Thomasson's Frej
Bill Hamm -- 4/9/2013, 2:32 am

Re: Strip: Building Bjorn Thomasson's Frej
JohnAbercrombie -- 4/9/2013, 12:32 pm

Re: Strip: Building Bjorn Thomasson's Frej
Bill Hamm -- 4/10/2013, 12:46 am

Re: Strip: Building Bjorn Thomasson's Frej *PIC*
JohnAbercrombie -- 4/20/2013, 12:03 pm

Re: Strip: Building Bjorn Thomasson's Frej *PIC*
JohnAbercrombie -- 4/20/2013, 12:13 pm

Re: Strip: Building Bjorn Thomasson's Frej *PIC*
JohnAbercrombie -- 4/20/2013, 12:18 pm

Re: Strip: Building Bjorn Thomasson's Frej
JohnAbercrombie -- 4/20/2013, 12:22 pm

Re: Strip: Building Bjorn Thomasson's Frej *PIC*
JohnAbercrombie -- 6/17/2013, 12:08 pm

Re: Strip: Building Bjorn Thomasson's Frej *PIC*
JohnAbercrombie -- 6/17/2013, 12:12 pm

Re: Strip: Building Bjorn Thomasson's Frej *PIC*
JohnAbercrombie -- 6/17/2013, 12:17 pm

Re: Strip: Building Bjorn Thomasson's Frej *PIC*
JohnAbercrombie -- 6/17/2013, 12:21 pm

Re: Strip: Building Bjorn Thomasson's Frej *PIC*
JohnAbercrombie -- 6/17/2013, 12:24 pm

Re: Strip: Building Bjorn Thomasson's Frej
Bill Hamm -- 6/18/2013, 1:24 am
Re: Strip: Building Bjorn Thomasson's Frej
Jay Babina -- 6/18/2013, 3:40 pm
Re: Strip: Building Bjorn Thomasson's Frej *PIC*
JohnAbercrombie -- 6/18/2013, 9:20 pm

Re: Strip: Building Bjorn Thomasson's Frej
JohnAbercrombie -- 6/18/2013, 9:41 pm

Re: Strip: Building Bjorn Thomasson's Frej
JohnAbercrombie -- 6/18/2013, 9:50 pm

Re: Strip: Building Bjorn Thomasson's Frej
JohnAbercrombie -- 6/18/2013, 9:54 pm

Re: Strip: Building Bjorn Thomasson's Frej
Björn Thomasson -- 6/19/2013, 5:20 pm

Re: Strip: Building Bjorn Thomasson's Frej *PIC*
Paul Davies -- 6/19/2013, 8:21 pm
Re: Strip: Building Bjorn Thomasson's Frej *PIC*
JohnAbercrombie -- 6/20/2013, 3:00 pm

Re: Strip: Building Bjorn Thomasson's Frej
Björn Thomasson -- 6/20/2013, 3:53 pm
Re: Strip: Building Bjorn Thomasson's Frej *PIC*
JohnAbercrombie -- 7/2/2013, 1:21 pm

Re: Strip: Building Bjorn Thomasson's Frej *PIC*
JohnAbercrombie -- 7/2/2013, 1:25 pm

Re: Strip: Building Bjorn Thomasson's Frej
Don Goss -- 7/6/2013, 11:29 pm

Re: Strip: Building Bjorn Thomasson's Frej
Sean Dawe -- 4/23/2013, 9:12 am