Re: Strip: Fast Touring Kayak by Bjorn Thomasson *PIC*
I thought I'd share my first paddling impressions of my new boat (Bjorn Thomasson NoName Fast Touring Kayak) from a very short outing this afternoon.
I like it! ;-)
Hopping in the boat, the initial feel is a lot like Frej - it feels compact and 'ready to go' but not at all 'twitchy' or unstable.
Secondary stability is excellent- I can set it up on edge very easily, and it stays there.
It rolls easily - and I'm not an accomplished roller, at all. The low back deck (like Frej) makes sweep rolls easy.
It feels quick - with the footboard it's easy to put my knees and feet in the middle of the boat and get good rotation and drive. I'll need to put the GPS on it for a longer outing to get some data on the speed.
Maneuverability:
With the rudder down, it goes where it's told with no fuss.
Rudder up - it's quite agile even when not edged (flat). Responds well to sweep strokes which skid the stern around easily, and bow rudder strokes work well. When set on edge, the steering strokes work even better (as you'd expect). Hanging draw stroke works well.
I'll let you know how it does in a breeze and waves, and also with some more weight in the boat, as the season progresses.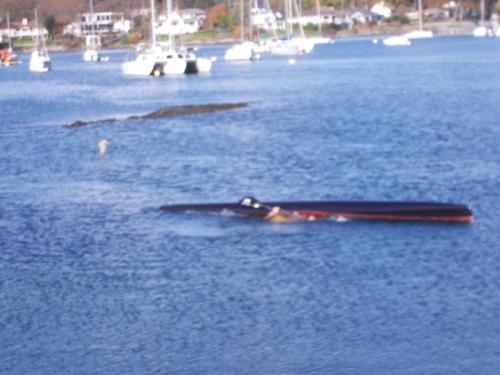 Messages In This Thread
Strip: Fast Touring Kayak by Bjorn Thomasson *PIC*
JohnAbercrombie -- 10/25/2014, 10:03 pm

Re: Strip: Fast Touring Kayak by Bjorn Thomasson
Bill Hamm -- 10/26/2014, 1:51 am

Re: Strip: Fast Touring Kayak by Bjorn Thomasson
Ric Allen -- 10/26/2014, 1:58 am

Re: Strip: Fast Touring Kayak by Bjorn Thomasson
JohnAbercrombie -- 10/26/2014, 1:07 pm

Re: Strip: Fast Touring Kayak by Bjorn Thomasson
Bill Hamm -- 10/27/2014, 12:36 am

Re: Strip: Fast Touring Kayak by Bjorn Thomasson
Ken Blanton -- 10/27/2014, 5:05 am

Re: Strip: Fast Touring Kayak by Bjorn Thomasson
Bill Hamm -- 10/28/2014, 12:11 am

Re: Strip: Fast Touring Kayak by Bjorn Thomasson
ddaniels -- 11/19/2017, 1:12 pm

Re: Strip: Fast Touring Kayak by Bjorn Thomasson
JohnAbercrombie -- 11/19/2017, 4:28 pm

Re: Strip: Fast Touring Kayak by Bjorn Thomasson
ddaniels -- 11/20/2017, 4:50 pm

Re: Strip: Fast Touring Kayak by Bjorn Thomasson
JohnAbercrombie -- 11/20/2017, 11:23 pm

Re: Strip: Fast Touring Kayak by Bjorn Thomasson
ddaniels -- 11/22/2017, 9:07 am

Re: Strip: Fast Touring Kayak by Bjorn Thomasson
JohnAbercrombie -- 11/22/2017, 10:43 am

Re: Strip: Fast Touring Kayak by Bjorn Thomasson
Bill Hamm -- 11/23/2017, 12:12 am

Re: Strip: Fast Touring Kayak by Bjorn Thomasson
ddaniels -- 11/25/2017, 1:00 pm

Re: Strip: Fast Touring Kayak by Bjorn Thomasson
JohnAbercrombie -- 11/25/2017, 1:30 pm

Re: Strip: Fast Touring Kayak by Bjorn Thomasson
Dan Caouette (CSCWC) -- 10/26/2014, 9:11 am

Re: Strip: Fast Touring Kayak by Bjorn Thomasson
JohnAbercrombie -- 10/26/2014, 1:00 pm

Re: Strip: Fast Touring Kayak by Bjorn Thomasson
Mike Bielski -- 10/26/2014, 12:06 pm

Re: Strip: Fast Touring Kayak by Bjorn Thomasson
JohnAbercrombie -- 10/26/2014, 1:12 pm

Re: Strip: Fast Touring Kayak by Bjorn Thomasson
Mike Bielski -- 10/26/2014, 2:14 pm

Re: Strip: Fast Touring Kayak by Bjorn Thomasson *PIC*
JohnAbercrombie -- 10/26/2014, 1:28 pm

Re: Strip: Fast Touring Kayak by Bjorn Thomasson *PIC*
JohnAbercrombie -- 10/26/2014, 1:42 pm
31Re: Strip: Fast Touring Kayak by Bjorn Thomasson
Mike Bielski -- 10/26/2014, 2:16 pm

Re: 31Re: Strip: Fast Touring Kayak by Bjorn Thoma
JohnAbercrombie -- 10/26/2014, 2:44 pm

Re: 31Re: Strip: Fast Touring Kayak by Bjorn Thoma
Mike Bielski -- 10/27/2014, 1:04 am

Re: 31Re: Strip: Fast Touring Kayak by Bjorn Thoma
JohnAbercrombie -- 10/26/2014, 2:55 pm

Re: Strip: Fast Touring Kayak by Bjorn Thomasson
Mike Bielski -- 10/29/2014, 2:14 pm

Re: Strip: Fast Touring Kayak by Bjorn Thomasson
JohnAbercrombie -- 10/29/2014, 2:46 pm

Re: Strip: Fast Touring Kayak by Bjorn Thomasson *PIC*
JohnAbercrombie -- 10/29/2014, 5:52 pm

Re: Strip: Fast Touring Kayak by Bjorn Thomasson
Etienne Muller -- 10/29/2014, 7:07 pm

Re: Strip: Fast Touring Kayak by Bjorn Thomasson *PIC*
JohnAbercrombie -- 11/1/2014, 5:11 pm

Re: Strip: Fast Touring Kayak by Bjorn Thomasson
Bill Hamm -- 11/2/2014, 2:32 am

Re: Strip: Fast Touring Kayak by Bjorn Thomasson
JohnAbercrombie -- 11/12/2017, 12:13 pm

Re: Strip: Fast Touring Kayak by Bjorn Thomasson
JohnAbercrombie -- 11/12/2017, 6:43 pm