Strip: Fast Touring Kayak by Bjorn Thomasson *PIC*
I would have put this message in the 'Launching' category, but 12 hours after I finished rigging the kayak, the first of a string of gales and rainstorms hit here on Vancouver Island. So it looks like I'll need to wait a bit to get the boat in the water! :-(
This design from Bjorn Thomasson is 5.6m LOA x 53 cm Beam (18.3' x 21"), with a bit of a surfski flavor.
I really like my Frej a lot, and wanted something a bit bigger for touring.
Dan Caouette was very gracious in sharing the details about the paint(s) he used on his stunning sectional Black Pearl. I try to follow the maxim: 'Copy from the best if you don't have a good idea of your own!' and this paint combo was definitely in that category. Thanks, Dan!
Deck is Metallic Pearl and clearcoat from House of Color and the hull is finished with a Valspar Jet Black 2-part automotive paint.
WRC (3/16) strips with 4 oz cloth over - two layers on hull exterior. Hatch recesses and coaming recess molded with fiberglass over pink foam.
Coaming is glass and CF, NDK Romany keyhole shape.
Seat is NDK style, also in CF and glass.
Glass bulkheads.
DIY footboard and pedals - combination of Stellar and Think ideas there.
Rudder is a Smart Track 'Race' - again, thanks for input on rudders I got from folks here.
I managed to grab a few low-rez pics in the yard, between rainstorms. Later in the week: paddling impressions!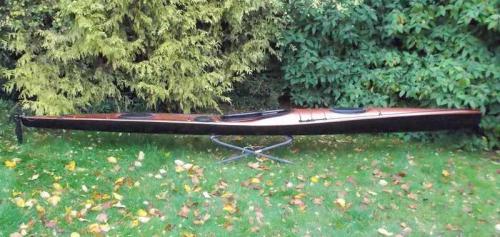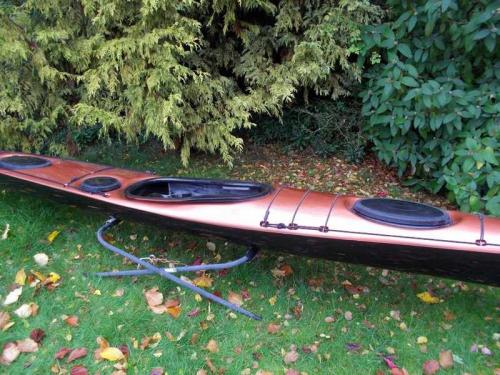 Messages In This Thread
Strip: Fast Touring Kayak by Bjorn Thomasson *PIC*
JohnAbercrombie -- 10/25/2014, 10:03 pm

Re: Strip: Fast Touring Kayak by Bjorn Thomasson
Bill Hamm -- 10/26/2014, 1:51 am

Re: Strip: Fast Touring Kayak by Bjorn Thomasson
Ric Allen -- 10/26/2014, 1:58 am

Re: Strip: Fast Touring Kayak by Bjorn Thomasson
JohnAbercrombie -- 10/26/2014, 1:07 pm

Re: Strip: Fast Touring Kayak by Bjorn Thomasson
Bill Hamm -- 10/27/2014, 12:36 am

Re: Strip: Fast Touring Kayak by Bjorn Thomasson
Ken Blanton -- 10/27/2014, 5:05 am

Re: Strip: Fast Touring Kayak by Bjorn Thomasson
Bill Hamm -- 10/28/2014, 12:11 am

Re: Strip: Fast Touring Kayak by Bjorn Thomasson
ddaniels -- 11/19/2017, 1:12 pm

Re: Strip: Fast Touring Kayak by Bjorn Thomasson
JohnAbercrombie -- 11/19/2017, 4:28 pm

Re: Strip: Fast Touring Kayak by Bjorn Thomasson
ddaniels -- 11/20/2017, 4:50 pm

Re: Strip: Fast Touring Kayak by Bjorn Thomasson
JohnAbercrombie -- 11/20/2017, 11:23 pm

Re: Strip: Fast Touring Kayak by Bjorn Thomasson
ddaniels -- 11/22/2017, 9:07 am

Re: Strip: Fast Touring Kayak by Bjorn Thomasson
JohnAbercrombie -- 11/22/2017, 10:43 am

Re: Strip: Fast Touring Kayak by Bjorn Thomasson
Bill Hamm -- 11/23/2017, 12:12 am

Re: Strip: Fast Touring Kayak by Bjorn Thomasson
ddaniels -- 11/25/2017, 1:00 pm

Re: Strip: Fast Touring Kayak by Bjorn Thomasson
JohnAbercrombie -- 11/25/2017, 1:30 pm

Re: Strip: Fast Touring Kayak by Bjorn Thomasson
Dan Caouette (CSCWC) -- 10/26/2014, 9:11 am

Re: Strip: Fast Touring Kayak by Bjorn Thomasson
JohnAbercrombie -- 10/26/2014, 1:00 pm

Re: Strip: Fast Touring Kayak by Bjorn Thomasson
Mike Bielski -- 10/26/2014, 12:06 pm

Re: Strip: Fast Touring Kayak by Bjorn Thomasson
JohnAbercrombie -- 10/26/2014, 1:12 pm

Re: Strip: Fast Touring Kayak by Bjorn Thomasson
Mike Bielski -- 10/26/2014, 2:14 pm

Re: Strip: Fast Touring Kayak by Bjorn Thomasson *PIC*
JohnAbercrombie -- 10/26/2014, 1:28 pm

Re: Strip: Fast Touring Kayak by Bjorn Thomasson *PIC*
JohnAbercrombie -- 10/26/2014, 1:42 pm
31Re: Strip: Fast Touring Kayak by Bjorn Thomasson
Mike Bielski -- 10/26/2014, 2:16 pm

Re: 31Re: Strip: Fast Touring Kayak by Bjorn Thoma
JohnAbercrombie -- 10/26/2014, 2:44 pm

Re: 31Re: Strip: Fast Touring Kayak by Bjorn Thoma
Mike Bielski -- 10/27/2014, 1:04 am

Re: 31Re: Strip: Fast Touring Kayak by Bjorn Thoma
JohnAbercrombie -- 10/26/2014, 2:55 pm

Re: Strip: Fast Touring Kayak by Bjorn Thomasson
Mike Bielski -- 10/29/2014, 2:14 pm

Re: Strip: Fast Touring Kayak by Bjorn Thomasson
JohnAbercrombie -- 10/29/2014, 2:46 pm

Re: Strip: Fast Touring Kayak by Bjorn Thomasson *PIC*
JohnAbercrombie -- 10/29/2014, 5:52 pm

Re: Strip: Fast Touring Kayak by Bjorn Thomasson
Etienne Muller -- 10/29/2014, 7:07 pm

Re: Strip: Fast Touring Kayak by Bjorn Thomasson *PIC*
JohnAbercrombie -- 11/1/2014, 5:11 pm

Re: Strip: Fast Touring Kayak by Bjorn Thomasson
Bill Hamm -- 11/2/2014, 2:32 am

Re: Strip: Fast Touring Kayak by Bjorn Thomasson
JohnAbercrombie -- 11/12/2017, 12:13 pm

Re: Strip: Fast Touring Kayak by Bjorn Thomasson
JohnAbercrombie -- 11/12/2017, 6:43 pm