Re: Strip: Fast Touring Kayak by Bjorn Thomasson *PIC*
What did you do for a rudder and rudder controls?
Initially I'd wanted to try a DIY 'swinging stern' retractable rudder like the Point65 Freya or the Epic 18X- and we had some discussion here about that. After building a quick strip mockup of the stern section and some serious drawings and experiments I realized that I'd be better to go with a commercial rudder. Dan Caouette suggested the Smart Track 'Race' rudder. I ordered the rudder, rudder tube which you need to order separately,lines, tubing, and deck fittings from Stellar - great service from them BTW.
One note about the Smart Track 'Race' rudder - the retraction line doesn't pull it 180°. just a bit more than 90° - so it clears the water.
Footboards were DIY incorporating some ideas from looking at designs online (Onno, Stellar). It was a big help having my (new) Think surfski here, since I got a much better understanding of one way (which I know 'works') to organize the pedal rigging.
I put the tension adjuster on the forward side of the bulkhead - the lines go through the bulkhead via rubber grommets.
I'll let you know how it all works on the water, once the storms pass us by here!
Pics: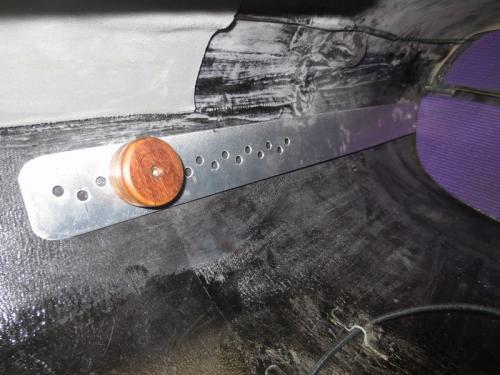 Messages In This Thread
Strip: Fast Touring Kayak by Bjorn Thomasson *PIC*
JohnAbercrombie -- 10/25/2014, 10:03 pm

Re: Strip: Fast Touring Kayak by Bjorn Thomasson
Bill Hamm -- 10/26/2014, 1:51 am

Re: Strip: Fast Touring Kayak by Bjorn Thomasson
Ric Allen -- 10/26/2014, 1:58 am

Re: Strip: Fast Touring Kayak by Bjorn Thomasson
JohnAbercrombie -- 10/26/2014, 1:07 pm

Re: Strip: Fast Touring Kayak by Bjorn Thomasson
Bill Hamm -- 10/27/2014, 12:36 am

Re: Strip: Fast Touring Kayak by Bjorn Thomasson
Ken Blanton -- 10/27/2014, 5:05 am

Re: Strip: Fast Touring Kayak by Bjorn Thomasson
Bill Hamm -- 10/28/2014, 12:11 am

Re: Strip: Fast Touring Kayak by Bjorn Thomasson
ddaniels -- 11/19/2017, 1:12 pm

Re: Strip: Fast Touring Kayak by Bjorn Thomasson
JohnAbercrombie -- 11/19/2017, 4:28 pm

Re: Strip: Fast Touring Kayak by Bjorn Thomasson
ddaniels -- 11/20/2017, 4:50 pm

Re: Strip: Fast Touring Kayak by Bjorn Thomasson
JohnAbercrombie -- 11/20/2017, 11:23 pm

Re: Strip: Fast Touring Kayak by Bjorn Thomasson
ddaniels -- 11/22/2017, 9:07 am

Re: Strip: Fast Touring Kayak by Bjorn Thomasson
JohnAbercrombie -- 11/22/2017, 10:43 am

Re: Strip: Fast Touring Kayak by Bjorn Thomasson
Bill Hamm -- 11/23/2017, 12:12 am

Re: Strip: Fast Touring Kayak by Bjorn Thomasson
ddaniels -- 11/25/2017, 1:00 pm

Re: Strip: Fast Touring Kayak by Bjorn Thomasson
JohnAbercrombie -- 11/25/2017, 1:30 pm

Re: Strip: Fast Touring Kayak by Bjorn Thomasson
Dan Caouette (CSCWC) -- 10/26/2014, 9:11 am

Re: Strip: Fast Touring Kayak by Bjorn Thomasson
JohnAbercrombie -- 10/26/2014, 1:00 pm

Re: Strip: Fast Touring Kayak by Bjorn Thomasson
Mike Bielski -- 10/26/2014, 12:06 pm

Re: Strip: Fast Touring Kayak by Bjorn Thomasson
JohnAbercrombie -- 10/26/2014, 1:12 pm

Re: Strip: Fast Touring Kayak by Bjorn Thomasson
Mike Bielski -- 10/26/2014, 2:14 pm

Re: Strip: Fast Touring Kayak by Bjorn Thomasson *PIC*
JohnAbercrombie -- 10/26/2014, 1:28 pm

Re: Strip: Fast Touring Kayak by Bjorn Thomasson *PIC*
JohnAbercrombie -- 10/26/2014, 1:42 pm
31Re: Strip: Fast Touring Kayak by Bjorn Thomasson
Mike Bielski -- 10/26/2014, 2:16 pm

Re: 31Re: Strip: Fast Touring Kayak by Bjorn Thoma
JohnAbercrombie -- 10/26/2014, 2:44 pm

Re: 31Re: Strip: Fast Touring Kayak by Bjorn Thoma
Mike Bielski -- 10/27/2014, 1:04 am

Re: 31Re: Strip: Fast Touring Kayak by Bjorn Thoma
JohnAbercrombie -- 10/26/2014, 2:55 pm

Re: Strip: Fast Touring Kayak by Bjorn Thomasson
Mike Bielski -- 10/29/2014, 2:14 pm

Re: Strip: Fast Touring Kayak by Bjorn Thomasson
JohnAbercrombie -- 10/29/2014, 2:46 pm

Re: Strip: Fast Touring Kayak by Bjorn Thomasson *PIC*
JohnAbercrombie -- 10/29/2014, 5:52 pm

Re: Strip: Fast Touring Kayak by Bjorn Thomasson
Etienne Muller -- 10/29/2014, 7:07 pm

Re: Strip: Fast Touring Kayak by Bjorn Thomasson *PIC*
JohnAbercrombie -- 11/1/2014, 5:11 pm

Re: Strip: Fast Touring Kayak by Bjorn Thomasson
Bill Hamm -- 11/2/2014, 2:32 am

Re: Strip: Fast Touring Kayak by Bjorn Thomasson
JohnAbercrombie -- 11/12/2017, 12:13 pm

Re: Strip: Fast Touring Kayak by Bjorn Thomasson
JohnAbercrombie -- 11/12/2017, 6:43 pm