Re: Skin-on-Frame: Green-white oak AND Thanks *PIC*
Hi West,
I would post photos, it seems they need to be somewhere online and then linked to this site?
I don't have them online.
If I could figure out how to just post a few directly on here I would.
If anyone could tell me how to do that I'll get some posted.
I am ready to put the skin on, but life is going to get in the way for a few days.
Since your username is appearing in bold blue font, you are 'logged in' with your profile and you will see this box when you hit reply: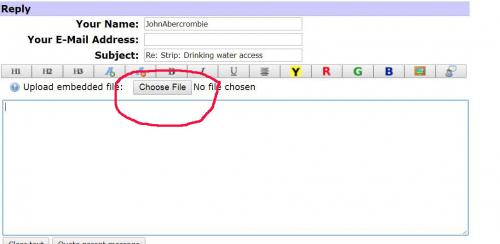 Just click on 'choose file' and browse for the picture in your computer hard drive. There are limits on the file size; you may have to re-size your image to something reasonable (800-1000 pixels wide, file size 100kB or so).
With newer cameras and Smart(sic) phones the default image sizes are huge and most users don't re-set to more reasonable values.
Messages In This Thread
Skin-on-Frame: Green-white oak
Rturnings -- 12/11/2017, 9:32 pm

Re: Skin-on-Frame: Green-white oak
Peter F Lord -- 12/12/2017, 5:25 am

Re: Skin-on-Frame: Green-white oak
Rturnings -- 12/12/2017, 7:09 am

Re: Skin-on-Frame: Green-white oak
Brian Nystrom -- 12/12/2017, 7:37 am

Re: Skin-on-Frame: Green-white oak
Rturnings -- 12/12/2017, 7:55 am

Re: Skin-on-Frame: Green-white oak
Justin -- 12/12/2017, 8:56 am

Re: Skin-on-Frame: Green-white oak
Rturnings -- 12/12/2017, 9:19 am
Re: Skin-on-Frame: Green-white oak
Dan Caouette (CSCWC) -- 12/12/2017, 11:55 am

Re: Skin-on-Frame: Green-white oak
Rturnings -- 12/12/2017, 3:17 pm

Re: Skin-on-Frame: Green-white oak
Qaannat -- 12/12/2017, 9:18 am

Re: Skin-on-Frame: Green-white oak
Rturnings -- 12/12/2017, 10:09 am

Re: Skin-on-Frame: Green-white oak
Qaannat -- 12/12/2017, 12:55 pm

Re: Skin-on-Frame: Green-white oak
Qaannat -- 12/12/2017, 12:58 pm

Re: Skin-on-Frame: Green-white oak
Rturnings -- 12/12/2017, 3:20 pm

Re: Skin-on-Frame: Green-white oak
Jay Babina -- 12/12/2017, 1:24 pm

Re: Skin-on-Frame: Green-white oak
Peter F Lord -- 12/12/2017, 2:28 pm

Re: Skin-on-Frame: Green-white oak
Rturnings -- 12/12/2017, 3:28 pm

Re: Skin-on-Frame: Green-white oak
Justin -- 12/13/2017, 4:47 am

Re: Skin-on-Frame: Green-white oak
Rturnings -- 12/14/2017, 8:26 am

Re: Skin-on-Frame: Green-white oak
Rturnings -- 12/12/2017, 3:24 pm

Re: Skin-on-Frame: Green-white oak
Jay Babina -- 12/13/2017, 7:08 am

Re: Skin-on-Frame: Green-white oak
Rturnings -- 12/13/2017, 8:00 am

Re: Skin-on-Frame: Green-white oak
Bill Hamm -- 12/14/2017, 12:26 am

Re: Skin-on-Frame: Green-white oak
Rturnings -- 12/14/2017, 8:07 am

Re: Skin-on-Frame: Green-white oak
Rturnings -- 12/14/2017, 8:56 am

Re: Skin-on-Frame: Green-white oak
Peter F Lord -- 12/22/2017, 5:41 am

Re: Skin-on-Frame: Green-white oak
Rtturnings -- 12/22/2017, 1:28 pm

Re: Skin-on-Frame: Green-white oak
Peter F Lord -- 12/22/2017, 4:15 pm

Re: Skin-on-Frame: Green-white oak
Peter F Lord -- 12/22/2017, 5:49 pm

Re: Skin-on-Frame: Green-white oak
Peter F Lord -- 12/23/2017, 7:30 am
Re: Skin-on-Frame: Green-white oak
Rtturnings -- 12/23/2017, 11:53 am

Re: Skin-on-Frame: Green-white oak AND Thanks
Peter F Lord -- 12/24/2017, 5:56 am

Re: Skin-on-Frame: Green-white oak AND Thanks
Rtturnings -- 12/24/2017, 8:14 am

Re: Skin-on-Frame: Green-white oak AND Thanks
Bill Hamm -- 12/24/2017, 11:53 pm

Re: Skin-on-Frame: Green-white oak AND Thanks
J Van Buren -- 12/26/2017, 9:42 am

Re: Skin-on-Frame: Green-white oak AND Thanks
Bill Hamm -- 12/28/2017, 1:21 am

Re: Skin-on-Frame: Green-white oak AND Thanks
Rtturnings -- 12/29/2017, 4:44 pm

Re: Skin-on-Frame: Green-white oak AND Thanks
Rtturnings -- 1/26/2018, 7:04 pm

Re: Skin-on-Frame: Green-white oak AND Thanks
West -- 1/30/2018, 4:53 am

Re: Skin-on-Frame: Green-white oak AND Thanks *PIC*
Rtturnings -- 1/31/2018, 4:54 pm

Re: Skin-on-Frame: Green-white oak AND Thanks
PETER -- 2/1/2018, 10:51 am

Re: Skin-on-Frame: Green-white oak AND Thanks
Rtturnings -- 2/1/2018, 3:40 pm

Re: Skin-on-Frame: Green-white oak AND Thanks
Rtturnings -- 1/30/2018, 12:50 pm
Re: Skin-on-Frame: Green-white oak AND Thanks
Rtturnings -- 1/30/2018, 10:00 am

Re: Skin-on-Frame: Green-white oak AND Thanks *PIC*
JohnAbercrombie -- 2/9/2018, 2:23 pm

Re: Skin-on-Frame: Green-white oak AND Thanks
Rtturnings -- 2/9/2018, 8:49 pm