Re: Strip: Drinking water access; pictures *PIC*
John, I have tried to post photo's here before with little luck :(
I'm not the 'John' you were addressing, but I hope this will help:
It takes a bit of time to work out a 'system' for your specific camera (phone??) - the first time you may take an hour; one you have the 'routine' worked out (camera settings, take picture, image into computer, resize if necessary, rename, post) the whole process only takes a minute or two. On occasion I've gone down to the shop to take a pic to include in the reply and the whole process only took a couple of minutes.
Get the photo image into your computer. It's easier on the Mac if you don't let iPhoto control everything, don't let the Mac put the image in icloud, don't let the Mac offer to 'send' the image, etc... Use Image Capture (in your Apps folder) to take the image from your camera and save it in a specific folder where you can find it again ('Pics for Uploading' ? in your 'Pictures' folder in Finder).
Check the image size and resize it if necessary (just do an internet search for simple ways to do that) - don't try to post a 4000 pixel wide image with a 10MB file size, or one of those iPhoto 320x240 20kB ones either. Something a few hundred kB and 800 or 1000 pixels wide will usually work well.
That's the difficult part done.
You are already 'registered' here at kayakforum, and 'logged in' (via the 'Preferences' at top left) since your user name is appearing in a bold blue font.
When you click on 'Reply', you will get this window: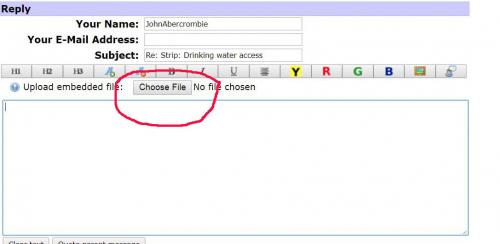 Just click on the 'Choose file' button, browse to your image, and upload.
Messages In This Thread
Strip: Drinking water access
Randy -- 12/15/2017, 5:36 pm

Re: Strip: Drinking water access *PIC*
Etienne Muller -- 12/15/2017, 5:43 pm
Re: Strip: Drinking water access *PIC*
JohnAbercrombie -- 12/15/2017, 5:56 pm
Re: Strip: Drinking water access
JohnAbercrombie -- 12/15/2017, 5:58 pm
Re: Strip: Drinking water access
JohnAbercrombie -- 12/15/2017, 6:01 pm
Re: Strip: Drinking water access
Scott Innes -- 12/15/2017, 6:02 pm

Re: Strip: Drinking water access
JohnAbercrombie -- 12/15/2017, 6:21 pm

Re: Strip: Drinking water access
JohnAbercrombie -- 12/15/2017, 7:21 pm

Re: Strip: Drinking water access
Randy -- 12/16/2017, 7:56 am

Re: Strip: Drinking water access
Howie II -- 12/16/2017, 5:28 pm

Re: Strip: Drinking water access
JohnAbercrombie -- 12/16/2017, 6:04 pm
Re: Strip: Drinking water access
JohnAbercrombie -- 12/16/2017, 6:22 pm

Re: Strip: Drinking water access
Dan Caouette (CSCWC) -- 12/16/2017, 5:30 pm

Re: Strip: Drinking water access
JohnAbercrombie -- 12/16/2017, 6:15 pm

Re: Strip: Drinking water access
Dan Caouette (CSCWC) -- 12/17/2017, 7:31 am

Re: Strip: Drinking water access
Randy -- 12/16/2017, 7:20 pm

Re: Strip: Drinking water access
John Urschel -- 12/17/2017, 8:33 am

Re: Strip: Drinking water access
Randy -- 12/17/2017, 11:02 am

Re: Strip: Drinking water access; pictures *PIC*
JohnAbercrombie -- 12/17/2017, 2:42 pm

Re: Strip: Drinking water access *PIC*
Kirk Fredericks -- 2/11/2018, 2:15 pm

Re: Strip: Drinking water access
Brian Nystrom -- 2/13/2018, 7:48 am

Re: Strip: Drinking water access
Kirk Fredericks -- 2/13/2018, 10:25 am
Re: Strip: Drinking water access
JohnAbercrombie -- 2/13/2018, 12:19 pm

Re: Strip: Drinking water access
M A Bielski -- 2/13/2018, 10:03 pm