Re: S&G: Kayak grab handles *PIC*
Thanks for the explanation and photos.

I am curious as to the details of the U-bolt installation. Do you mount it after the deck has been glassed, but before the end pour is done? Sorry if the answer to that seems obvious.

Thanks.
John U.
John:
That picture is of a Mariner kayak. All the Mariners have hefty U-bolts set into the end pour. They can be used as locking points if you want to chain your kayak.
On the boats I build, I use smaller U-bolts, set into the block or end pour at the end of the boat.
I put the wood blocks into the ends before I join the hull and deck. On some builds, I've made a 'dam' at the end and poured in leftover epoxy as I worked. It doesn't have to be a big (weight) amount of solid in the ends to do the job. If, by accident, you end up 'hitting air' when you drill for the U-bolt, you can set the boat on end (outside somewhere) and then do a (careful) end pour while keeping the 'exit hole' taped up.
I drill holes big enough for the nuts on the bolt and set the bolt into the hole with a small (pea-sized) dab of QuikWood epoxy putty on the bottom of the nuts. Once that hardens and I'm sure that the bolt will stay vertical, I fill the holes with slightly thickened epoxy, using a syringe.
On my last build, I used the stainless U-bolts from 'bulldog' cable clamps.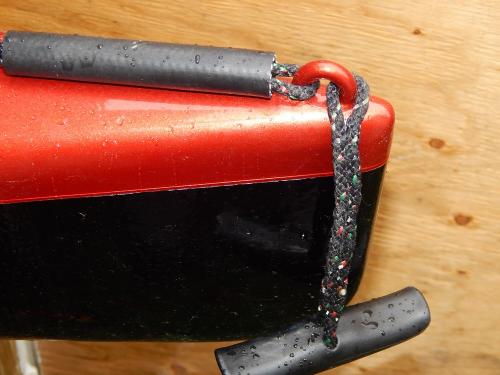 The 'hole in the end' works well also; that's how Seaward did the single line toggle on a friend's new boat.