Re: S&G: Kayak grab handles *PIC*
What are your thoughts on the screw on top grab handles vs. the rope through the hull. Does anyone have experience with them? Are there any real disadvantages to using them?
I don't think you'll see many good sea kayaks with the screwed-on strap handles on the deck. What boat are you outfitting?
Even though they are used for that, they aren't really carrying handles; they are part of the safety 'system' which give a swimmer something to hold. Good handles are designed/built so that there's no chance of broken bones (or worse) if the boat is rolled while a swimmer is holding on. The NDK handles are a good design: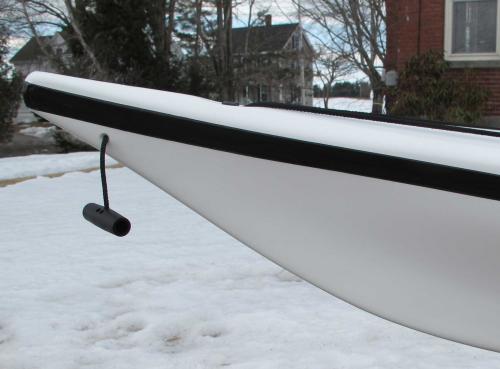 If you have toggles attached to a U-bolt in the deck (my preference), you should arrange the line to have no loops that allow fingers or hand to be trapped. Stitching together the two parts with sail twine is one way of doing that:


Notice that in both those examples, the line is long enough to allow an easy 'grab' by the swimmer. Avoid the 'clean looking' toggles with the one inch lines.