Re: Strip: Hatch cover *PIC*
For building a recess for a commercial (watertight!) hatch rim and cover, the Blue Heron pictures seem like a good guide to me.

1) set the hatch so that the lateral edges are are close to or meet the curvature of the deck (or one edge on a day hatch). This avoids the recess forming a bowl around the entire hatch rim and so allows drainage, preventing water from collecting around the hatch while paddling
That's good advice.
Reducing the height of the foam mold at the sides helps.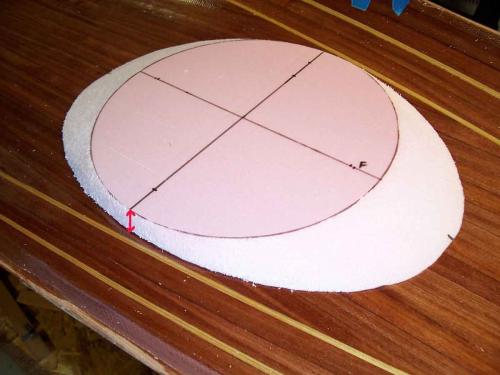 The problem is that as the side recess gets 'flatter', more bevelling of the deck is required and you could end up with a bit of a 'feather edge' of wood deck. If the recess meets the deck at a nice sharp angle, it's easier to get a good-looking result (like the BlueHeron example). (Not such a problem with a painted boat..)
With most of my boats, I've gotten into the habit of tilting the boat to drain water from the recess when unloading on shore. But, I'm definitely careful not to make a 'bowl' that's more than a cm. or so deep. With a (painted) glass boat, you can always mold scuppers into the side of the recess if you want to lower the top of the hatch cover into the deck profile a bit.

I like to add a layer of lightweight glass over the carbon fiber to protect the edge with the deck, although the epoxy fill is probably sufficient
Me, too. It helps to protect the carbon, makes a smoother surface than the coarse carbon weave, and also helps when sanding - I don't want to sand into carbon, so the glass is a 'warning sign'.
I've used kevlar/carbon fiber instead of carbon fiber sometimes
I really dislike working with Kevlar; I always end up with fuzzy bits sticking up if I have to sand it. It's also a 'pain' to cut with less-than-perfect shears.
one could just use glass and colored resin for the recess.
Yes, but colored resin is a bit messy - that black will 'get everywhere' if I'm not careful. So I might use colored resin for the recess - as suggested here- but I would use carbon for the 'cosmetic' layer applied from above the deck, for a clear-finished wood boat. Carbon - especially twill weave- is really 'flexible' so, with care, a strip a few inches wide could be worked around the hatch opening. For me, it would definitely be worth the cost to use carbon in that spot. I don't think I've ever used carbon in a real structural application - it's usually mostly cosmetic.
Messages In This Thread
Strip: Hatch cover
Randy -- 11/18/2017, 9:09 am

Re: Strip: Hatch cover
Olli -- 11/18/2017, 10:06 am

Re: Strip: Hatch cover
Olli -- 11/18/2017, 10:16 am

Re: Strip: Hatch cover *PIC*
JohnAbercrombie -- 11/18/2017, 11:57 am

Re: Strip: Hatch cover
Randy -- 11/18/2017, 11:31 am

Re: Strip: Hatch cover
JohnAbercrombie -- 11/18/2017, 11:33 am

Re: Strip: Hatch cover
Randy -- 11/18/2017, 11:52 am

Re: Strip: Hatch cover
JohnAbercrombie -- 11/18/2017, 12:09 pm
Re: Strip: Hatch cover
scottbaxter -- 11/18/2017, 7:54 pm
Re: Strip: Hatch cover
fred -- 11/19/2017, 10:23 am

Re: Strip: Hatch cover
scottbaxter -- 11/19/2017, 10:54 am

Re: Strip: Hatch cover
Howie II -- 11/18/2017, 5:39 pm

Re: Strip: Hatch cover
Jay Babina -- 11/19/2017, 7:43 am

Re: Strip: Hatch cover
Rich D -- 11/18/2017, 9:16 pm

Re: Strip: Hatch cover
Randy -- 11/19/2017, 9:38 am