I completed a Guillemot Petrel late last fall so it never saw water, stored indoors all winter. I got it out this spring and something had happened to the finish. I am assuming I made a BIG mistake as I have built several kayaks and this is the first finish problem I have had. I thought I followed the same procedure as on previous boats but apparently not .  .  .  .
The build sequence - sand with 120 grit, apply stain using the same sandpaper, sand very lightly with 220 grit, apply another coat of stain with a rag, sand VERY lightly with 220 grit and apply epoxy sealer coat. Apply 4 oz. cloth then 3 filler coats and sand then 3 coats of varnish. All the epoxy coats were within 8 hrs. of each other and the epoxy dried a good 2 weeks before varnish.
When stored for the winter it looked excellent, just like Nick's mahogany stained boat with the light colored trim. When I brought it out into the light this spring it looked really bad. Full of spots, milky, the deck/hull seam looks especially bad. I did not see a single pin hole / white spot on the boat last fall, this spring :(  :(
I will enclose a before and after photo or two. What dumb mistake did I make ?? I won't be removing the glass and reglassing the boat, I will sell it and build anoither one :)
A little difficult to tell in the photo's but the glass is turning green ??
Sorry, 3rd photo is refusing to load
Thank you for your thoughts :)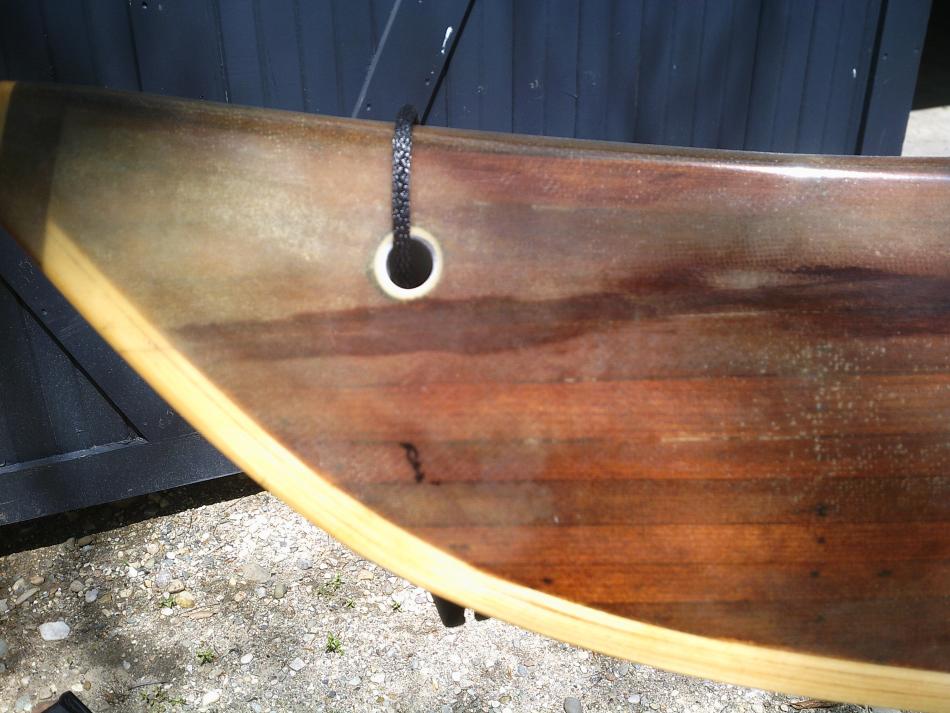 The first photo is Nick's boat but mine was exactly the same - for awhile, the next two are mine