Kayak Forum History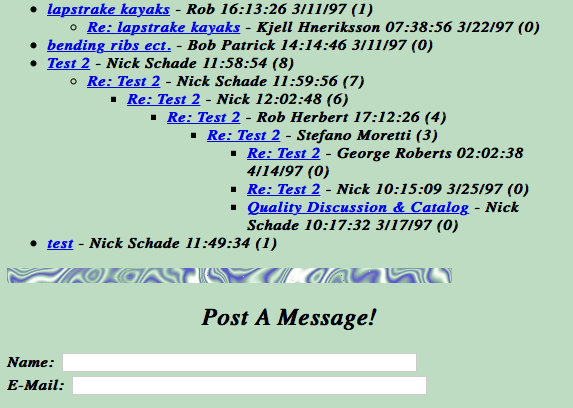 On a slow day in March of 1997 I decided that it might be interesting to add a bulletin board system to my website. I'd had a little "Guestbook" system running for a while at that point and that was cool, but it seemed like a real interactive community could be entertaining.
I just used a free script I found somewhere online and I was pretty satisfied. At some point a little better system came along that let me keep all the old posts, so I moved over to that. That system got upgraded now and again, so I followed along and upgraded with it. At one point I even hired one of the developers to upgrade me to the latest greatest system.
Shortly thereafter he decided the system wasn't worth his time to maintain. So he quit, eventually nobody was supporting it.
21 years after I had that whim to start the BBS, and about 250,000 posts later, my web host upgraded the operation system on my server and the script was no longer fully functional. Luckily the data is all still there and the script works well enough that you can read the posts.
The links are provided below.